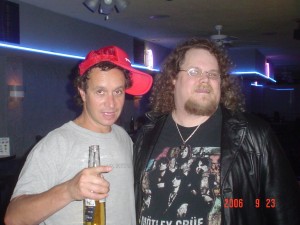 Yup, that's me. The weird looking guy in a trenchcoat. Nothing big or special there, just hanging out with The Weasel (aka: Pauly Shore). Met him after a show and he insisted on getting his picture taken on his camera with me. I shit you not!
I have lived in quite a few places over the years, from Washington to PA to Alaska to Iowa (where I currently reside), and work as a systems administrator (official title: Server Charmer ). I started working with Linux in the mid to late 90s, opened my own business in 2002, and let's just say it all started working from there.
When not working , I can be found, usually hanging out on the couch, watching TV, gaming, or, well, spending time with one of my two children (aka; the cats). See how protective Patches is?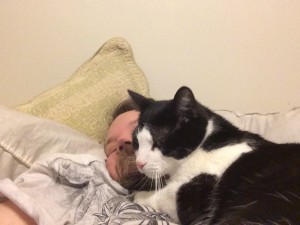 If I'm gaming, you can usually find me hanging out on XBL – Add twhiting9277 if you like. I don't bite (much), unless you're playing a PvZ game, then I might just.
I lead a very interesting life, and love every moment of it. Sure, there's days I'd rather not so much, but let's be honest, we ALL have those days, right?
(Visited 39 times, 1 visits today)